The USS Orleck Is Open!!!
The USS Orleck is open to the public during the following hours:
• Wednesday through Friday, 9 a.m. to 3 p.m.
• Saturday, 9 a.m. to 4 p.m.
• Sunday, 10 a.m. to 4 p.m.
Last visitors on board 30 minutes before closing
In support of the Jacksonville Naval Museum, there is a suggested donation of $15 per adult and $10 per child. The USS Orleck is docked just east of the Main Street bridge at 203 E. Coastline Drive.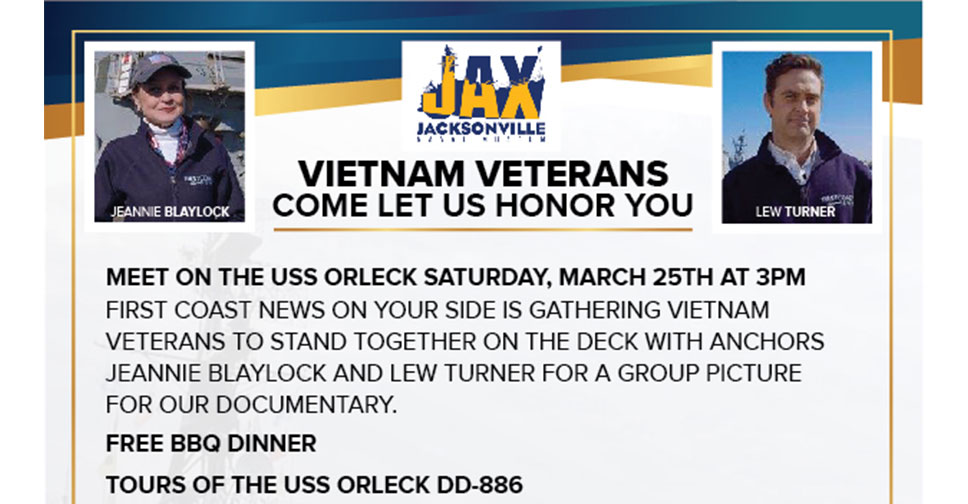 First Coast News & the Jacksonville Naval Museum Honor our Vietnam Veterans Date and time Sat, March 25, 2023, 3:00 PM – 8:00 PM EDT Location 114 E Coastline Dr 114 East Coastline Drive Jacksonville, FL 32202 Come and join Jeannie Blaylock and Lew Turner from First Coast...
read more
Meet The USS Orleck DD-886
Named after Lieutenant Joseph Orleck, Commanding Officer of USS Nauset, killed in action on 9 September, 1943 during World War II, & posthumously awarded the Navy Cross.
Gearing Class Destroyer, keel laid in 1944, launched on 12 May '45, & Commissioned 15 September, 1945.
The "Top Gun" of Vietnam, fired 11,000+ rounds earning the nickname "Grey Ghost of the Vietnam Coast" & netting an astonishing 14 battle stars throughout the war.
In the Korean War become the charter member of the "Train Busters Club" and received 4 battle stars during the war.
Received updates to original hull frame that included: ASROC (Anti Submarine Rocket launcher) & DASH (Drone Anti Submarine Helicopter system).
Awards included: Navy Unit Commendation, Battle 'E', China Service Medal, World War II Victory Medal, Navy Occupation Service Medal, National Defense Medal (multiple awards), Korean Service Medal (multiple awards), Armed Forces Expeditionary Medal (multiple awards), Vietnam Service Medal (multiple awards), Republic of Korea Presidential Unit Citation, Republic of Vietnam Gallantry Cross Unit Citation, United Nations Service Medal, & Republic of Vietnam Campaign Medal.