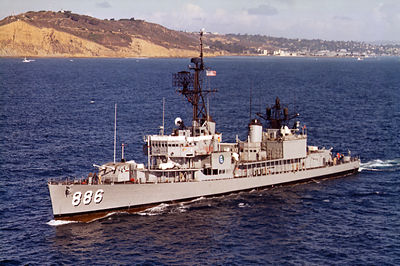 Gearing Class Ships
The Gearing class was a series of 98 destroyers built for the U.S. Navy during and shortly after World War II. The Gearing design was a minor modification of the Allen M. Sumner class, whereby the hull was lengthened by 14 ft (4.3 m) at amidships, which resulted in more fuel storage space and increased the operating range.
The first Gearings were not ready for service until mid-1945 and thus saw little service in World War II. They continued serving, with a series of upgrades, until the 1970s. At that time many were sold to other nations, where they served many more years.
Nine Gearing-class ships still exist. ARM Netzahualcóyotl (ex-Steinaker) was active in the Mexican Navy until 2014 and is slated to be sunk as an artificial reef. As of April 2012 two were laid up in non-operational condition in Kaohsiung, Taiwan: ROCS Chien Yang (ex-James E. Kyes) and ROCS Sheng Yang, (ex-Power). The other six are museum ships: TCG Gayret, (ex-Eversole), in Izmit, Turkey; ROKS Jeong Buk, (ex-Everett F. Larson), near Gangneung, South Korea; ROCS Te Yang, (ex-Sarsfield), in Tainan, Taiwan; USS Joseph P. Kennedy Jr. in Fall River, Massachusetts; ROKS Jeong Ju, (ex-Rogers), near Cheonan, South Korea and USS Orleck in Lake Charles, Louisiana. ROKS Kang Won (ex-William R. Rush), formerly a museum near Busan, South Korea, was scrapped as of December 2016.